How to Rent a Limo for Your Wedding in Danbury CT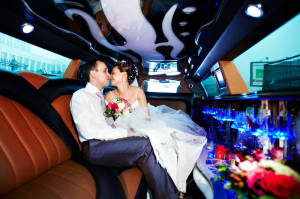 Planning the perfect wedding can be a daunting task filled with nervous anticipation and lots of details. One of the most important details of your big day is transportation. And your wedding transportation is not simply about getting there, it's about getting there in unforgettable style and well-appointed comfort. You can rely on Danbury Limo Services' reputation for reliability and class to ensure that your horse-drawn carriage doesn't turn into a pumpkin at midnight. Simply complete the 45-sec form or call us at 203-889-9777 to speak to a super helpful attendant.
Types of Vehicles Needed
Danbury Limo Services provides an array of stylish vehicles to compliment the glamour of your big day. Imagine the old Hollywood feel of the beautiful bride stepping out of a stretch limo with her train following behind. Or maybe a stretch hummer would be more befitting the groom and his groomsmen. And of course, the classic elegance of a towncar and driver will give the parents the honored place they deserve on this day of all days. If you seek something truly unique, consider our lavish Rolls Royce limousine to transport you in ultimate class. You've planned every detail of your wedding, let our tasteful and elegant limousines provide the finishing touch.
Locations
From the rehearsal dinner to the honeymoon suite, there are numerous locations you will need to be chauffeured to in your wedding limo of choice. Make a list of all the planned stops and let the professional knowledge of the limo company help to coordinate all the stops on your way to wedded bliss. From an impeccably clean limo with a pristine interior suitable for the bride's white gown to a uniformed chauffeur, no detail will be overlooked when it comes to providing top-notch service each step of the way.
For the ride from the ceremony to the reception, consider having a vehicle for the bride and groom to bask in each other's newly pledged commitment while the bridal party toasts your future in a separate car. And consider if you'll be requiring wedding limousine service at the evening's end to whisk you off to your honeymoon suite while escorting your bridal party home safely and securely.
Details
Your wedding day will bring a variety of emotions from nervousness to joy to and everything in between. Danbury Limo Services understands that your rides to and from the day's festivities must be comfortable and relaxing. When booking your limo, be sure to discuss the finer details. Will ice and glasses be provided for cool water to calm nerves and for chilled champagne to clink glasses? Is there a music player so the bride can relax to Pachabel on the ride to the church and smooch her new husband to the sweet sounds of Adele on the way to the reception?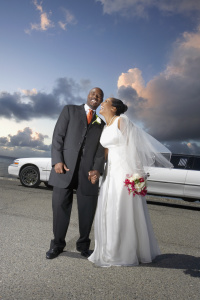 Reserve early
It is recommended that you book your limo for wedding six to nine months in advance to ensure getting the vehicles you desire. Danbury Limo Services has a large and diverse fleet to meet all your needs, to include the rehearsal dinner, and honored family members. Knowing that you have a fully licensed limo company reserved to usher your loved ones around town will provide you peace of mind.
If there are any changes in the number of passengers or scheduled stops, be sure to let the company know as soon as possible. Understanding that things don't always go according to plan, Danbury Limo Services provides flexibility and professionalism in the face of unpredictability.
It's your fairy tale and your chariot awaits. Let Danbury Limo Services' reliable and professional service chauffeur you to your future. Call 203-889-9777 to speak to one of our courteous representatives to see how we can be a privileged part of your memorable day.